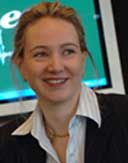 Mary-Anne Bowring is the founding director of Ringley Chartered Surveyors, a multi-award winning property consultancy based in Camden Town London. She also sits on the Board of Governors and heads the Membership Committee for the Institute of Residential Property Management.
Over the last 10 years, Mary-Anne has grown the Ringley Group to now manage just under 10,000 leasehold properties, provide valuation and building engineering services to 12 banks and the company boasts an in-house legal team to assist with upholding the covenants of the varied leases and in the niche work the Ringley Group provides in the fields of lease extensions and freehold enfranchisement.
As managing director and founder director of Ringley, it is Mary-Anne's energy, technical expertise, and love of helping see personnel achieve their true potential that has become the bedrock of Ringley. Mary-Anne's philosophy is that Ringley will achieve its vision "good advice, great service from brilliant people every time" by remaining true to its core values and listening and innovating at every opportunity. Ringley is the first managing agent to put in place a money back guarantee and to encourage its supply chain to do the same thing, to use simple tools like a "white glove test" to award stars to all the cleaners who clean our clients blocks of flats.
Smart use of technology saw the launch of a software solution BlockCare 200 aimed at small blocks of flats who for about 10% of the cost of a managing agent can create budgets, print out service charge demands and do the year end accounts without the worry that they will fall foul of legislation get access to all the information they need and protection. The software even reminds them what needs doing when. Or for about 30% of the cost of a managing agent Ringley keeps small blocks going with their BlockCare 300 Service Charge Administration product.
Ringley truly champions leaseholders' issues. Every leaseholder should be able to name a handful of managing agents, know they can claim their right-to-manage, buy the freehold or extend their lease.